The Craftsman style evolved from the English Arts & Crafts movement, which was a natural turning point from the overly formal and perhaps stifling Victorian era. When brought to the United States, it became known as the "Craftsman" style, and the movement's theme was "honesty of design."
That honesty comes from hand-hewn items, fine workmanship, harmony with nature and simplicity of living. Traditional 1910-1930 bungalows with tapered square column porches, low eaves and shingles can be seen across the country today.
Even if your home doesn't have an inglenook or plenty of built-in bookcases, you can still bring the honesty of design into your home by incorporating Craftsman touches into your decor.
Earth tones
One of the trademarks of Craftsman style is the earthy tones used inside and outside the home. Inspired by nature's color palette, muted browns, grays, greens and amber hues are popular. Rich reds and oranges serve as brighter shades in the style.
Stained glass
Stained glass is another way to bring warm light and earth tones to the interior of a house. Try incorporating hanging or standing panels or stained-glass lamps. For the full effect, consider replacing a few window panels, particularly bay windows, with Craftsman-inspired stained glass.
Warm wood accents
Wood, particularly oak, is one of the major trademarks of the Craftsman style. The wood allowed true craftsmanship to come through in joinery and details. Frank Lloyd Wright, whose architecture was "eloquent and humane," enjoyed using the natural elements of wood in unique ways, such as this lamp from his famous Taliesin III home. The warm light reflects off the warm wood to bring a comforting glow to any room.
Leaves and stylized botanical prints
Since closeness with nature is such a large part of the Craftsman heritage, anything with oak leaves, acorns, Gingko leaves or other natural elements instantly brings harmony to the room. This hand-carved sign instantly shows off Craftsman style and the handmade touch that makes it so appealing.
Copper and bronze details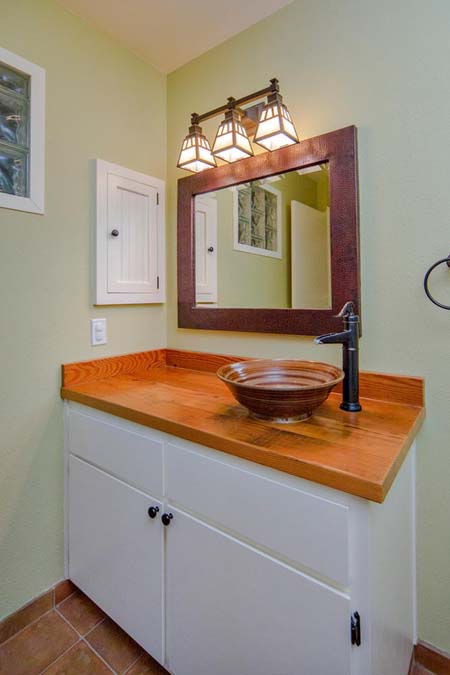 Copper and oil-rubbed bronze seamlessly integrate with the warm woods of the Craftsman style. Cabinet hardware, lighting and other accessories in brighter metals can easily be replaced with these warm tones. Hand-hammered or botanical-inspired pieces that show off the workmanship and detail of the artist are especially appropriate.
Stone and brick
Stone and brick feature prominently on the outside and inside of most Craftsman homes. They are particularly important around a central fireplace, another feature of Craftsman style. But they can be incorporated into other areas, too. Garden or tabletop accents such as tall slate oil lamps are a unique touch in the same shape as Craftsman columns and add even more warm light.
Water features
Water is an important element of nature and incorporates well into Craftsman interiors. Small indoor waterfalls or tabletop rock gardens with waterfalls bring the elements of natural sounds into your home. This unique waterfall sink brings a little bit of Frank Lloyd Wright's iconic "Fallingwater" to any bathroom. Oil-rubbed bronze and an organic-form amber bowl are sure to be a focal point.
Built-in storage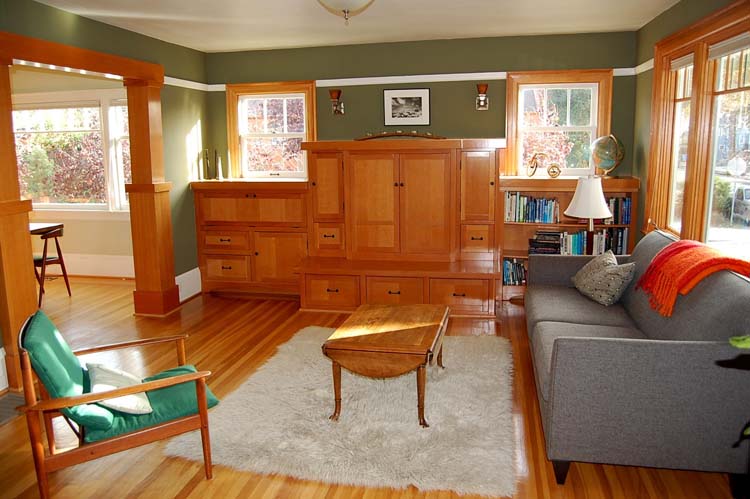 Built-in storage was immensely popular in Craftsman style. While your own home many not have any of these decorative storage units, you can easily create some. Use simple bookcases and storage cubbies to create the feel of built-ins (and offer extra space, too). This looks particularly great around any windows or doors.
Cultivate outdoor spaces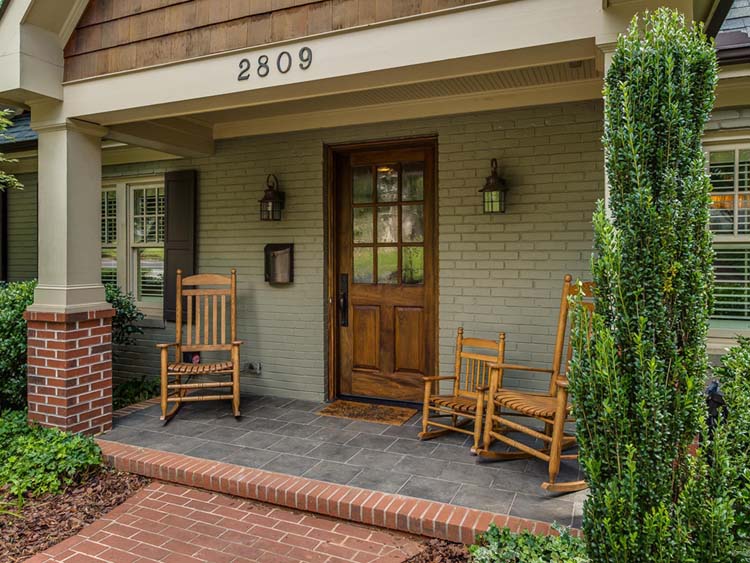 Well-cared for, luscious outdoor spaces with plants, stone, wood trellises and more will complete the Craftsman style for your home. Hang lights, use natural planters, and create an outdoor space that is in harmony with nature.
Whether you are renovating a classic bungalow to its former glory or just bringing a bit of nature-inspired design to your current home, the welcoming simplicity of Craftsman style is timeless.
Related:
Powered by WPeMatico